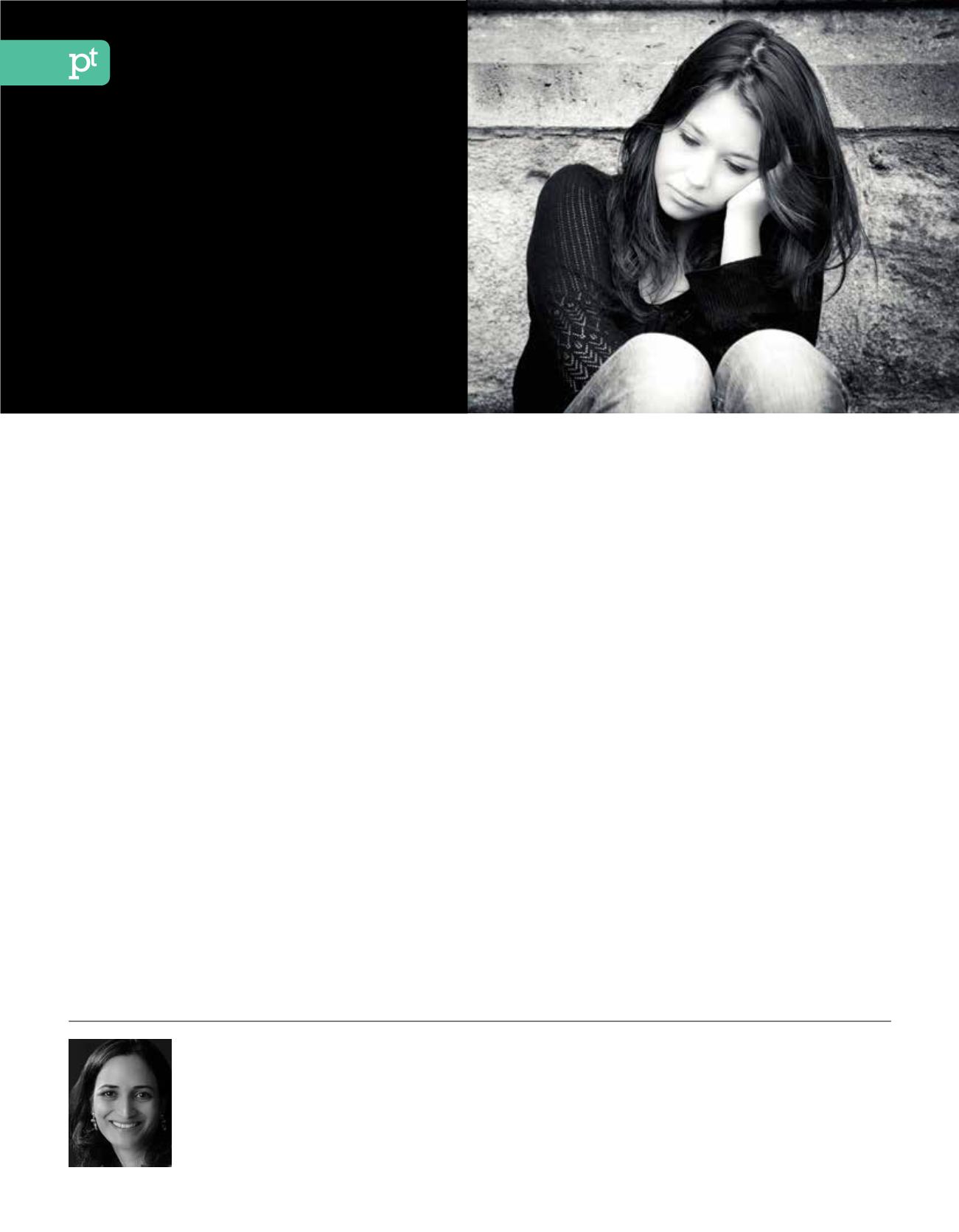 issues during our lifetime.
findings of the UK's National Institute of
Mental Health. And although mental
illness and its effects will impact on us all,
stigma and discrimination are still rife, with
mental health issues still widely perceived
as a form of personal weakness.
The World Health Organisation
(WHO) predicts that by the year 2020,
15 per cent of all illnesses will be mental
illnesses, and this is seriously concerning
healthcare professionals.
Working towards well-being
Psychologists and therapists are
increasingly focussing on well-being,
which, according to the WHOmeans:
"A state in which every individual realises
his or her own potential, can cope with
the normal stresses of life, can work
productively and fruitfully, and is able
to make a contribution to his or her
It's important to realise that our sense
of well-being changes in response to
circumstances and stages of life, and to
accept that it is normal to experience
times of stress, grief, anxiety and
Unfortunately, many of us in Hong
Kong lack the family and social support
network we have in our home countries.
We may feel isolated and lonely, making
managing lowmoods more difficult. And
adults are not the only ones affected:
mental health issues are increasingly
impacting our children, too.
Anxiety manifests itself in unexpected
ways. One in every 150 15-year-old girls,
and one in 1,000 15-year-old boys will
suffer from anorexia. Major depressive
episodes are regularly diagnosed in
kids as young as 12. These figures are
scary, and we need to work proactively
to change this trend for our coming
So, what can we do?
We can take charge of our own well-
being and seek help when we need
to. Early diagnosis and intervention
can prevent anxiety disorders from
developing into serious problems.
Here are a few simple tips to manage
• Accept yourself and your family for who
• Look after your physical and emotional
• Manage your own stress.
• Find a support network of friends here
in Hong Kong, especially if you have left
the support of family and friends in your
• Consider volunteering. This not only
helps you to meet new friends, but will
also promote your sense of self-worth.
• Model the behaviour you want to see in
your children. Show enthusiasm for new
experiences, and your children will get
• Allow children to express how they feel,
and validate their feelings by listening
• Victims of peer bullying can be more
susceptible to depression, anxiety and
self-harm. Keeping communication
channels open at all times with your
children ensures that, if anything
happens, they will talk to you.
• Living in the past can lead to
depression, while living in the future can
increase anxiety. Aim to live in the here
Dr Quratulain Zaidi
guard your family's well-being.
sponsored feature
About the Author
Dr Quratulain Zaidi, BSc. Hons, MSc, MSc, PhD., is a mother and a British-qualified and registered Clinical Psychologist
who has lived and worked in Hong Kong and Singapore for 12 years. She specialises in assisting families in areas
including parenting, teen issues, cyber-safety, marriage guidance, postnatal depression, stress and anxiety disorders,
depression, bullying, eating challenges, and self-harm. She is an expert in educational assessments and learning
challenges in children and teens, including ADHD, ADD, Dyslexia and ASD. Her office is in Central.
Learn more at
.