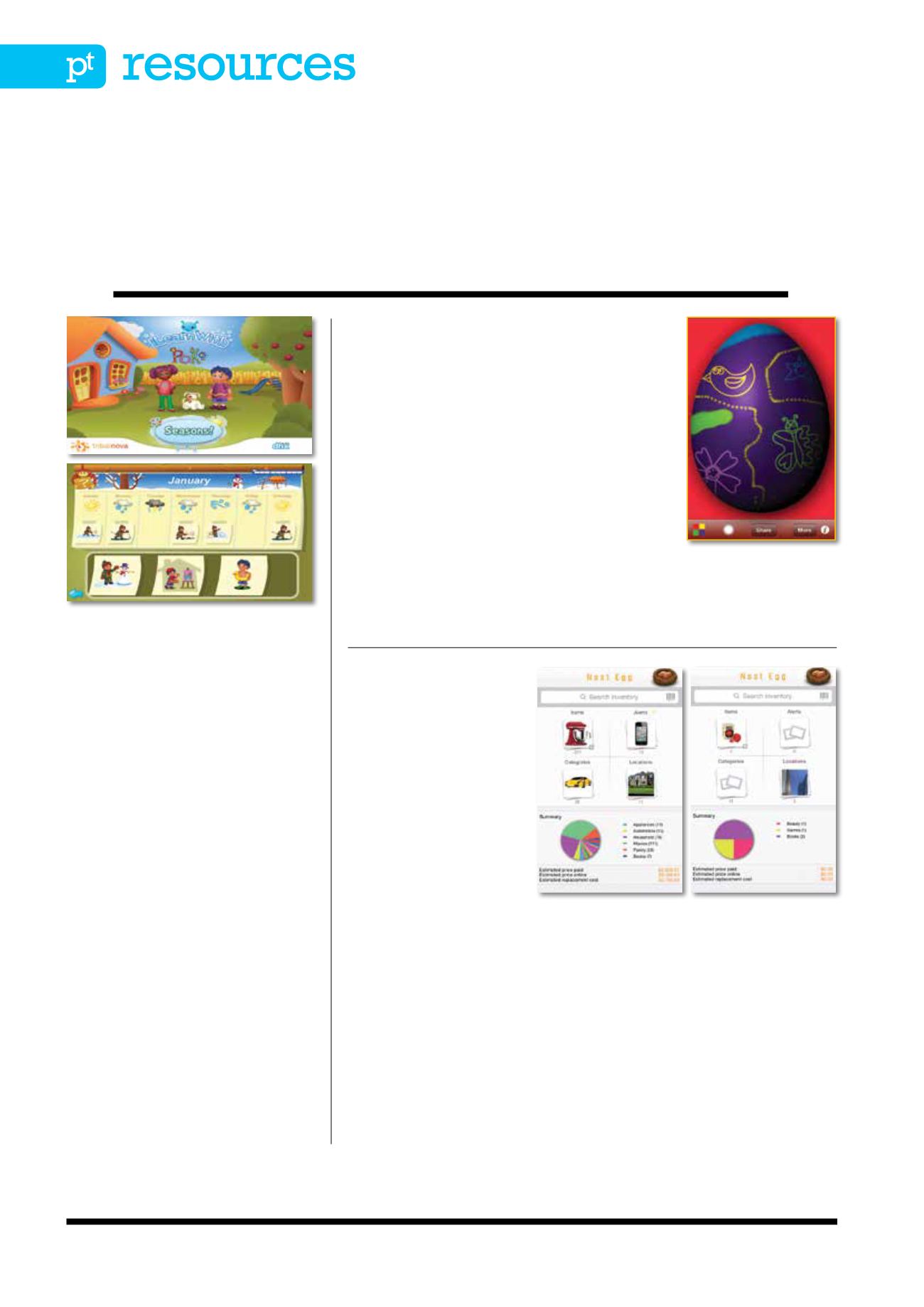 For infants & toddlers
Seasons!
Developed by the team behind the
I
learn with!
series of educational apps,
the Seasons! app teaches youngsters
about the four seasons. This is definitely
not one for quiet places, unless the user
has earphones or you are purposely
looking for attention. Like other apps in
the series, Seasons! is both educational
as well as entertaining and the narrator's
Following those instructions, players
have to fill a calendar with activities
suitable for a given meteorological
condition, identify which clothes match
a specific season and identify various
weather conditions. The developers
claim that children also learn skills
such as listening and comprehension,
observation and critical thinking. Parents
can also sign up to receive their child's
progress reports via email.
Available for Apple and Android
devices
Painting Easter eggs, spring cleaning, changing seasons? These
three apps have April written all over them, writes
Angelina Draper
For creative kids
Paint Easter Egg HD
As a parent, it's easy to fall under the spell of
"educational" games and forget that kids sometimes
just want to have fun. Although we fill our mobile
devices with so-called games, children don't always
want to answer questions or solve equations to reach
the next levels, no matter how cute the graphics
The Paint Easter Egg HD app is a great way of
letting kids tap into their creative side and design
Easter eggs, which they can upload to Facebook,
email or save. With a variety of colours, paintbrushes, stencils and backgrounds,
it is very easy to get those creative juices flowing. Conveniently, the background
music can be turned off, making it a great travel companion app.
Available for Apple devices
For mums & dads
Nest Egg
properties or could do with
a proper spring cleaning just
to remember what you have
and where it is located, then
Nest Egg is a must-have app.
With a few clicks, you can
create an inventory of all
your belongings, sort them
by location and category, and even mark what is borrowed or has been lent out.
The app has a number of powerful tools, including a barcode reader for
easy scanning of items such as DVDs, books and CDs that would otherwise be
tedious to input. Within seconds, each item is uploaded to a specific category
and, if available, an online price is quoted. Scanned data can be manually
overridden and it is easy to add pictures and information about items that do not
Another nifty tool is the location function, which allows you to create
multiple homes and rooms for easy reference. Data can be exported and alerts
can be created to inform you of a warranty or product expiration. There's no
need to sign up or pay a monthly fee for the service, which is stored locally on
Available for Apple devices