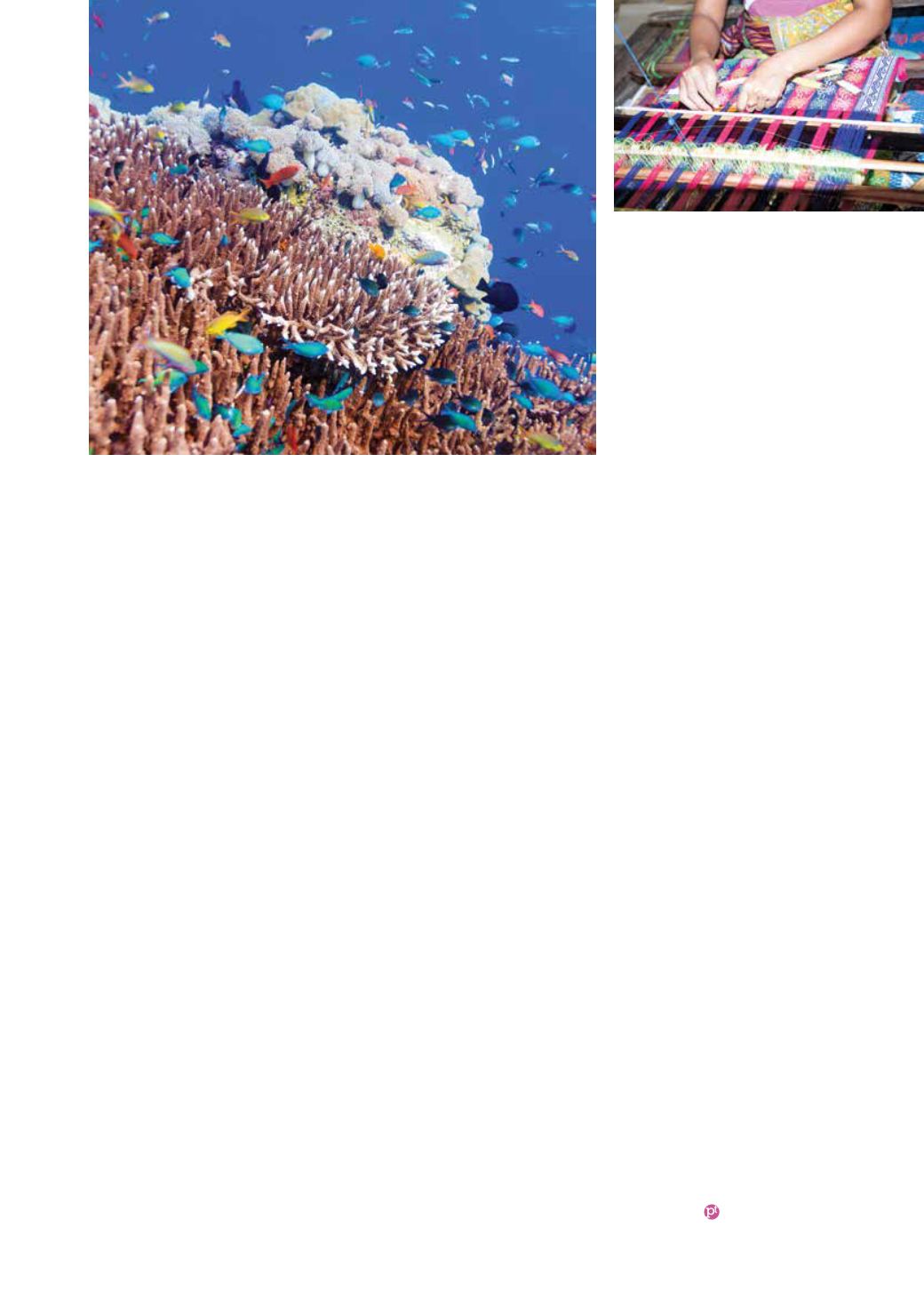 Lombok Island is located east of Bali
and west of Sumbawa Island. From
Hong Kong, take a connecting flight
via Jakarta, or if you're already in
Bali, you can take a four-hour ferry
or a quick flight. This lesser-known
destination offers a wide range of new
experiences and natural attractions.
Many people say that visiting Lombok
is like stepping back in time to the
Bali before tourists and expatriates.
Nowadays, tourists enjoy Lombok's
peaceful environment, its beautiful
nature and the many wonders of the
underwater world. If you and your
family find it exhilarating to swim in
waterfalls, climb mountains or simply
contemplate breathtaking countryside,
and if you want to be fair to local
communities, then an eco-tour to
Lombok is definitely for you.
Trekking, kayaking, diving,
snorkelling, horse riding, cycling,
swimming in crystal clear waters and
waterfalls: Lombok has it all! These
activities are not only fun, but they
also allow you to meet people from the
Sasak culture. Local people involved
in ecotourism are proud of their
birthplace and will show you how best
to protect the environment.
Lombok boasts many great spots
to explore on foot. Several companies,
in small-scale sustainable tours and
offer treks off the beaten track in
unspoilt areas of Lombok. On some
trails, women guides lead trekkers
through bamboo forests and stunning
rice fields, allowing them to observe
traditional potters and Ikat weavers.
If you are travelling with small
children, you can opt for an easy
half-day option offered by Rinjani
guides will take you to the two famous
waterfalls of Sindang Gila and Tiu
Kelep, and to a traditional Sasak
village. This is an easy trek, but kids
will be thrilled with jumping in natural
pools under powerful waterfalls. Locals
like to say that each time you swim
behind the main waterfall of Tiu Kelep
you become a year younger! For more
extreme trekking, you might want
to push to Betara Lenjang, but this
waterfall should be reserved for rock
climbers accompanied by a local guide
and carrying proper equipment. For
the ultimate challenge, experienced
trekkers can climb Mount Rinjani
volcano. Over the course of two to
five days, climb 3,726 metres to the
summit, visit Lake Segara Anak in the
crater, bathe in hot springs and visit
caves – a registered and experienced
guide is essential for this trip.
Horse riding is an eco-friendly
activity that offers you the freedom
to explore remote beaches and
countryside. In South Lombok, Kuta
idyllic horse riding treks to deserted
beaches, traditional Sasak villages,
mangroves, rice fields and forests,
for both beginners and experienced
riders. The early-morning ride to the
summit of Mount Prabu to admire
the sunrise is unforgettable. At sunset,
riders can climb Mount Nyale and
take in the grandiose panoramic view
of the beaches down below. On all
the treks, you will meet friendly local
people and be able to observe village
life and traditional ways of working in
the fields. Swimming with the horses
in the shallow waters of the lagoon is a
highlight and a delightful moment of
Cycling in Lombok is another
way to discover untouched areas.
Mountain Bike Lombok (www.
mountainbikelombok.com) offers day
trips and longer mountain bike trips
to explore the most attractive areas
of the island, and they fully adhere to
For accommodation in Northeast
Lombok, Rinjani Beach Eco Resort
a charming hotel, located on the black
sand beach with gorgeous views of the
Gili Islands and Mount Rinjani. It is
the perfect place to relax and recharge
your batteries. The comfortable
bamboo bungalows were made entirely
of natural materials and no trees
were cleared to build the resort. They
adhere to sound ecological principles,
not only in the resort's construction,
but also with their wastewater gardens,
and hiring staff from the local
From there, tourists can go to
Gangga waterfall and hike in the forest
to find coffee, vanilla and cocoa plants.
Their on-site PADI dive shop offers
certification programmes and dive
trips to the Gilis and other spots along
the coast. The friendly family who run
the resort care about the environment
and offer excellent advice to their
Indonesia, in addition to being
a fun place to visit, offers great
opportunities to introduce your
children to nature, to allow them to
experience a more natural life and to
start them on the journey of reflecting
on the beauty and fragility of our