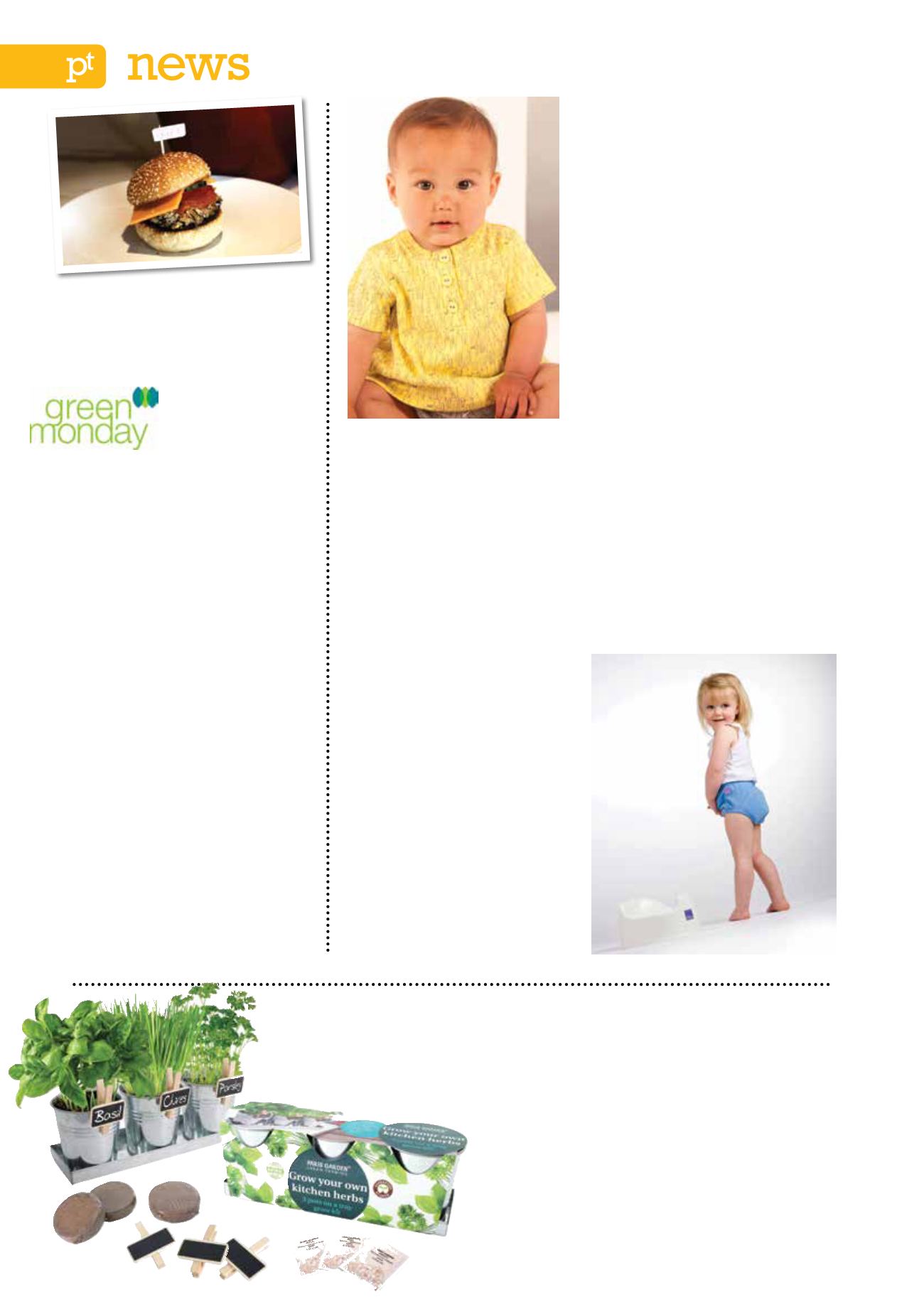 Get green fingers by growing your very own garden at home with
Paris Garden
kits come with soil and seeds – and clear and easy instructions – meaning you
simply have to add water to start enjoying the entire growing
process. All seeds, which are guaranteed as 100 per cent
natural, are tested for purity and germination. The stylish
containers are carefully selected to be both on-trend and
functional, so they can be kept long after growing. To start
your at-home garden, visit
Minimise little accidents with
Bambino Mio Training Pants
award-winning and reusable potty
training pants are made from a
cotton-blend fabric. The water-
resistant layer and concealed inner
pad both help to contain accidents.
The clever inner layer allows
toddlers to feel wetness, helping
their transition into normal pants,
and the pull-up style also promotes
independence. Suitable for machine
washing and tumble drying for easy
care, Bambino Mio Training Pants
cost $99 from stockists including
Ourbaby, Baby Online, Mini-Me,
Toysland and Little Whale.
Designer Tracey Samuel established
Bonnie Baby London
in 2005, and the latest, colourful collection
was inspired by her own children. She asked
them to choose their favourite animals and
so a range of cute creature motifs was born.
Bunnies, lions and tigers are leaping off the
jersey and knitwear! Over 50 per cent of the
new collection was created using machine-
washable organic cotton fabrics. See the
styles at the shop in The Peninsula Hong Kong,
Shop BL3A, Salisbury Road, Kowloon.
Green
Colourful
Toilet
Go green,
Green
Monday
lifestyle, helping more than 400,000
local students and 1,000 restaurant
outlets opt for more vegetarian dishes
and adopt healthier diets. That's
especially positive news, when much
of Hong Kong's high carbon footprint
comes from imported livestock, and
beef consumption per capita here is
almost double that of the EU and seven
times as much as mainland China! Their
2014 campaign "Let's Green Monday"
encourages people to give up meat
one day a week, whilst "Green Luck"
aims to reduce food waste.
As part of SPRING's drive to improve
nutritional awareness and healthy
eating amongst young children, they've
collaborated with Green Monday to
Cooking@SPRING
programme with special green recipes.
Kids will use fresh, nutritious, organic
ingredients to create delicious dishes,
including Veggie Burger with Baked
Sweet Potato Fries and Homemade
Ketchup, and Avocado Cheesecake.
hk