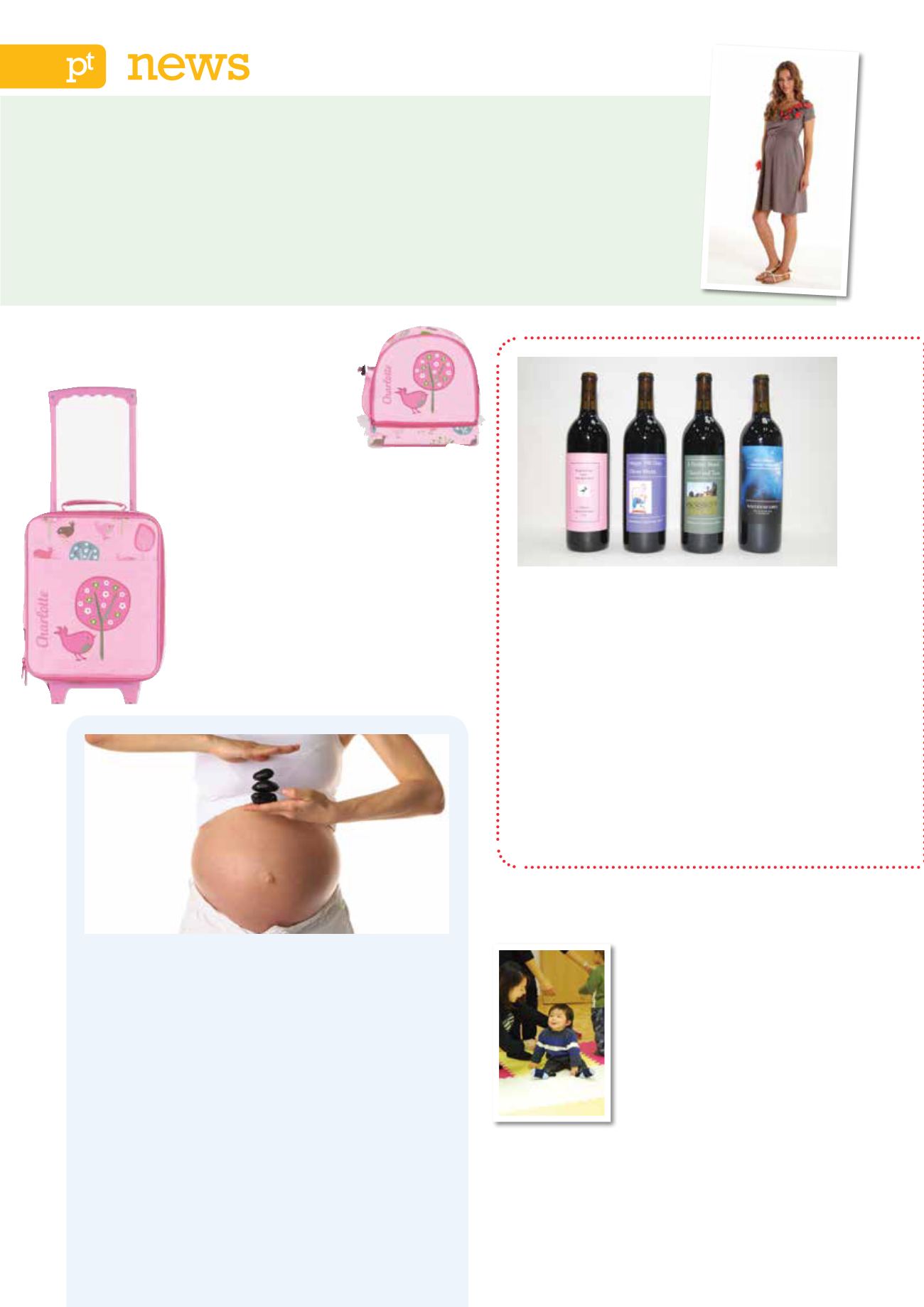 Summer
MEV: Mothers en Vogue
, the lifestyle fashion label for maternity, nursing and baby apparel, has
launched its latest collection. With summer beckoning, hot mamas can dress in the Spring-Summer 2014
collection's vibrant colours, exotic prints and soft, natural fabrics. Their Central store suits fashionable
and practical mums seeking stylish, comfortable and reasonably priced maternity and nursing clothes,
as well as baby and toddler outfits. Colour and silhouette are MEV's main highlights this season with on-
trend bright, luminous tones being offset with neutral shades to create cheerful, refreshing looks. Shop
17/F, Unit 1, Crawford House, 70 Queen's Road, Central
Penny Scallan Junior
Range
personalised exclusively at
Stuck on You
travelling more exciting for kids with their own
labelled luggage. Personalised backpacks and
messenger bags make cute and cool carriers
for kids heading to daycare or school. Junior
personalised wheelie bags are perfect to carry
books, toys, crayons and snacks on overnights, car
journeys or as carry-on plane luggage. Brighten
kids' bedrooms and tidy away toys with adorable
personalised storage boxes. Select from Chirpy
Bird, Big City, Juicy Apple, Navy Star and Russian
Doll designs, and personalise them using their
online tool. Get personal at
In need of perfect pampering? Head straight to
A Mother's
Touch
's new clinic on Duddell Street. Try a Tuesday afternoon
for a Dermalogica special treatment: 50 heavenly minutes
including a back, neck and shoulder massage and an
express facial. On Wednesdays, they run a pregnancy
massage clinic from 12pm to 8pm with Tim Tse, who's trained
in polarity and pregnancy massage. Other massages are
available Monday to Friday by appointment, and home
visits can be arranged. Get pampered at
learning
Golden Gate Playgroup
your child for the first year of
kindergarten by letting them
experience the actual routine of
kindergarten but with the security
of an accompanying parent or
guardian. Through fun games,
activities, music, story time and
snack time, kids learn to share,
take turns and self-care. They'll
also develop maths and language skills, focus, critical
thinking and sensory perception. Give your child the skills
to confidently enter their first school years. Three classes
are held per week, two in English and one in Mandarin.
love
Private Wine Company
personalised wines for your special event or
occasion. The entire process is simple and convenient,
allowing you to have a custom-labelled wine ready
within three weeks. The labels at The Private Wine
Company are created by a team of award-winning
graphic artists and their wines are specially selected
from some of the world's best wine regions: Bordeaux
and California. Just contact them with the details,
number of cases, wine preference and when you need
it delivered, and they'll take care of you. Drink up at